Longarm Services
We offer longarm services for quilts up to approximately 100" in width. Our rate is .02 per square inch. A 60" by 60" throw would cost approximately $72. Our service includes free-motion quilting as well as a variety of pantographs. We include trimming your quilt in our price. Our current turn-around time is approximately 2-3 weeks.
We are currently accepting quilts with a 3 to 4 week turnaround. Get your projects in our que now!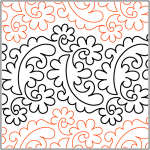 AccuCut
We have a Studio AccuCut with over 30 dies to choose from. Rental rate is $6 per half hour. We are always available to assist you if needed. Here is a list of the dies we have at the shop.


1/2 Square - 3" Finished (Cuts 3)

10" Squares (9 1/2" Finished) (2 cuts)

2 1/2" Square (12 cuts)

2 1/2" Super Giant Strip Cutter (5 cuts)

5 1/2"Square (4 cuts)

5" Squares / Pinked #2

5" Squares / Straight edge (cuts 8)

Acrylic Hexagon #1

Apple Core #1

Basket #7 Crease

Batting Square 3 1/4" (16 cuts)

Box - Take-out 3D Crease

Cat #2

Chisel-Shaped Set (1 of 2)

Circle 8 1/2

Diamond #4 (6 cuts)
Dog - Scottie

Dog #1

Feathers #2 (Cuts 8) (Curved)

Feathers #3 (Cuts 8)(like Teardrops)

Halloween Cat and Bat

Hawaiian - Hula Flower

Heart Medium (Cuts 1)

Heart Large (Cuts 1)

Hexagon #3 (18 cuts)

Holly (1 cut)

Maple Leaf (cuts 1)

Plastic Box - 5" Charm Square Box

Quilt Block C #3

Quilt Block D #3 (Triangle)

Quilt Block F #3

Quilt Block G #3 (Parallelogram)

Quilt Block H #3 (Rectangle)
Rag Quilt Square (1 of 2)

Rose Sampler (3 of 3)

Round Flower Set (2 of 3)

Flower Set (3 of 3)

Round Flower Set (3 pcs)

Row Sampler (#1 of 3) 1 cut (French Rose)

Row Sampler (#2 of 3) 2 cuts (French Rose)

Squares 2" (12 cuts)

Squares 3 1/2" Super Jumbo (6 cuts)

Stars (6-pointed) (11 cuts) (Small)

Sun #5 Small

Take 5 (5 different cuts)

Teddy Bear #1

Triange #2

Triangle Isosceles

Triangles/Kaleidoscope (1 cut)

Tumbler Block #3